Page 26
Natural History of the Mammalia of India and Ceylon - by Robert A. Sterndale F.R.G.S., F.Z.S. (1884)

prev page next page
contents
GENUS VESPERTILIO
Muzzle long; ears often larger than the head, oval, apart; tragus long, acute; crown of head vaulted; feet moderate; wing membrane from base of toes; tail, wholly included in interfemoral membrane, less than length of head and body.
Dentition: Inc., 2—2/6; can., 1—1/1—1; premolars, 3—3/3—3; molars, 3—3/3—3.

108. MYOTIS (VESPERTILIO) MURINUS.
(Jerdon's No. 61.)
HABITAT.—N.W. Himalayas.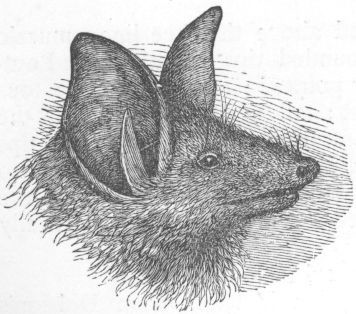 Vespertilio murinus
DESCRIPTION.—Fur above light reddish or smoke brown beneath dusky white, the base of the hairs dark.
SIZE.—Head and body, 2½ inches; tail, 2 inches; expanse, 15 inches.

109 & 110. MYOTIS THEOBALDI and MYOTIS PARVIPES.
(Jerdon's Nos. 62 & 63.)
Both these appear to be closely allied to the pipistrelle of Europe, and are stated to have been found at Mussoorie and in Kashmir.

111. VESPERTILIO LONGIPES.
HABITAT.—Kashmir (caves of Bhima Devi, 6000 feet).
DESCRIPTION.—Wings from the ankles; feet very large, about one-fourth the length of the head and body; fur black above, underneath black with whitish tips.
SIZE.—Head and body, 1·75 inch; tail, 1·45 inch.

112. VESPERTILIO MYSTACINUS.
HABITAT.—Himalayas.
DESCRIPTION.—Muzzle narrow; skull vaulted; ears as long as head, wings from base of toes; fur dark brown.

113. VESPERTILIO MURICOLA.
HABITAT.—Himalayas, Arracan.
DESCRIPTION.—Similar to the above, but may be distinguished by a small lobe behind the heel, by the deep emargination of the upper third of the outer margin of the ear; by the intensely black colour of the fur and membranes, and by its small size.—Dobson.
SIZE.—Head and body, 1·6 inch; tail, 1·55 inch.

114. VESPERTILIO MONTIVAGUS.
HABITAT.—Burmah, Hotha, Yunan.
DESCRIPTION.—Head slightly elevated above the face line; muzzle obtuse; ears narrow, tapering, with rounded tips slightly turned outwards; tragus long, narrow, and acutely pointed; feet very small; toes two-thirds the length of the whole foot; tail wholly contained in the membrane; wings from base of toes; fur dark brown above, the tips paler and shining, beneath much darker, almost black, with ashy tips to the hairs; face much covered with hair, which almost conceals the eyes; the tip of the nose alone naked; wing membranes partially covered with fur.
SIZE.—Head and body, 1·8 inch; tail, 1·6 inch.
This bat, of which the above description is taken from Dobson's monograph, was obtained by Dr. J. Anderson during the Yunan Expedition.

115. VESPERTILIO MURINOIDES.
HABITAT.—N.W. Himalayas (Chamba), 3000 feet.
DESCRIPTION.—General form of the ear triangular, with narrow rounded tips; outer margin concave beneath tips; tragus slender and acutely pointed, with a quadrangular lobe at the base of the outer margin; fur dark brown above with light brown tips; dark brown below, almost black with greyish tips.
SIZE.—Head and body, 2·5 inches; tail 2.

116. VESPERTILIO FORMOSUS.
HABITAT.—N.W. Himalayas (Nepal, Darjeeling), Khasia hills.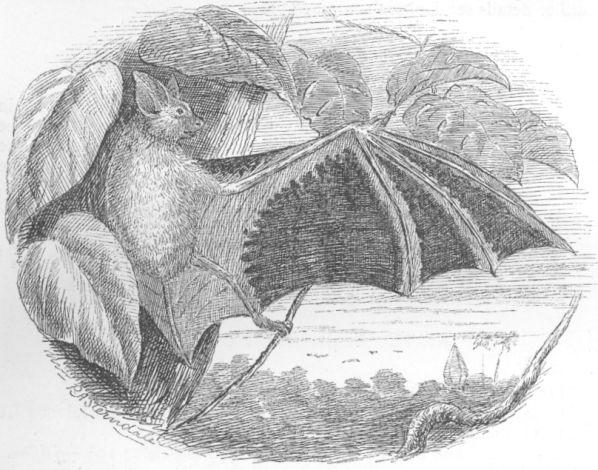 Vespertilio formosus
DESCRIPTION.—Wing membrane broad and variegated with orange and rich dark brown; the portions of the dark-coloured membrane are triangular in form, and occupy the spaces between the second and third and third and fourth fingers; all the remaining portions of the membranes, including interfemoral, are orange, as are also the ears; the orange colour extends in narrow lines along each side of the fingers, and is dispersed over the dark triangular space in dots and streaks.
SIZE.—Head and body, 2 inches; tail, 1·1; expanse 11.

117. VESPERTILIO NEPALENSIS.
HABITAT.—Khatmandu, Nepal.
DESCRIPTION.—Fur of head and back long and dense, bicoloured; base black, tips brown; underneath the hairs are two-thirds black, with the remaining upper third pure white.
SIZE.—Head and body, 1·65 inch; tail, 1·35.

118. VESPERTILIO EMARGINATUS.
VARIETY.—Desertorum.
HABITAT.—Beluchistan.
DESCRIPTION.—The upper third of the outer margin of the ears deeply emarginate; colour of fur light brownish; ears and interfemoral membranes pale yellowish white; membranes dusky white.
SIZE.—Head and body, 2 inches; tail 1·6.