Page 16
Natural History of the Mammalia of India and Ceylon - by Robert A. Sterndale F.R.G.S., F.Z.S. (1884)

prev page next page
contents
MICROCHIROPTERA

SUB-FAMILY VAMPYRIDÆ

GENUS MEGADERMA
Bats with simple or complicated nose-leaves or membranes. The conch of the ear very large, and joined together on the top of the head; tragus large and bifurcated; nasal membranes complicated; no tail; wings remarkably ample. They have four incisors below but none above, the intermaxillaries remaining cartilaginous.
Dental formula: Inc., 0/4; can., 1—1/1—1; pre-m., 2—2/2—2; molars, 3—3/3—3.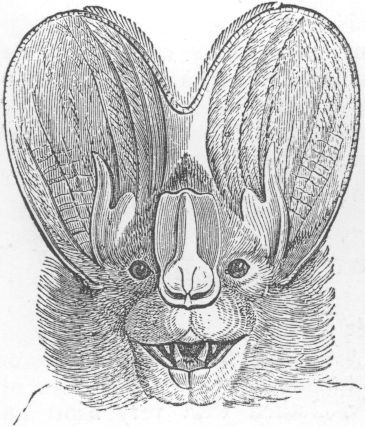 Megaderma lyra

36
. MEGADERMA LYRA.
The Large-eared Vampire Bat
(Jerdon's No. 15).
HABITAT.—India and Ceylon.
DESCRIPTION.—Above ashy blue, slaty or pale mouse colour; albescent or yellowish ashy beneath; nasal appendage large, oblong, free at the tip, reaching to the base of the ears with a fold down the centre; tragus (oreillon) cordate, two-lobed, anterior long, narrow and pointed, posterior lobe half the height and rounded; muzzle truncated; under-lip cleft; wing membranes dark brown.
SIZE.—Head and body, 3 or 3½ inches; wing extent, 14 to 19 inches.
Very abundant in old buildings. They are beyond doubt blood-suckers. Blyth noticed one fly into his room one evening with a small vespertilio, which it dropped on being chased. The smaller bat was weak from loss of blood, and next morning (the Megaderm having been caught), on both bats being put into the same cage, the little one was again attacked and devoured; it was seized both times behind the ear. McMaster writes that in Rangoon he had a tame canary killed by a bat, and the bird's mate soon afterwards was destroyed in the same way. The case was clearly proved.
Mr. Frith informed Mr. Blyth that these bats were in the habit of resorting to the verandah of his house at Mymensing, and that every morning the ground under them was strewed with the hind quarters of frogs, and the wings of large grasshoppers and crickets. On one occasion the remains of a small fish were observed; but frogs appeared to be their chief diet—never toads; and of a quiet evening these animals could be distinctly heard crunching the heads and smaller bones of their victims.

37. MEGADERMA SPECTRUM. The Cashmere Vampire (Jerdon's No. 16).
HABITAT.—Cashmere.
DESCRIPTION.—Above slaty cinereous, whitish beneath; the vertical nose-leaf of moderate size, oval; inner lobe of tragus ovate (Jerdon).
SIZE.—Two and three-quarter inches.
Dobson makes this bat synonymous with the last.

38. MEGADERMA SPASMA.
HABITAT.—Tenasserim, Ceylon.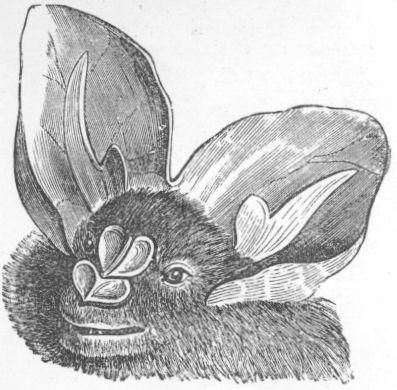 Megaderma spasma DESCRIPTION.—Muzzle, ear-conch, and tragus similar to those of M. lyra; the posterior portion of the tragus, however, is longer and more attenuated upwards, and more acutely pointed; the nose-leaf is shorter, with convex sides; but the anterior concave disc is considerably larger, and the base of the thickened process is cordate; thumbs and wings as in M. lyra; interfemoral membrane deeper; the calcaneum stronger; colour the same.
SIZE.—Head and body, about 3 inches. This bat is alluded to by Jerdon as M. Horsfieldii.