Page 12
Natural History of the Mammalia of India and Ceylon - by Robert A. Sterndale F.R.G.S., F.Z.S. (1884)

prev page next page
contents
FAMILY LEMURIDAE.
The Indian members of this family belong to the sub-family named by Geoffroy Nycticebinæ.

GENUS NYCTICEBUS.

28. NYCTICEBUS TARDIGRADUS. The Slow-paced Lemur (Jerdon's No. 10).
NATIVE NAME.—Sharmindi billi, Hindi.
HABITAT.—Eastern Bengal, Assam, Garo Hills, Sylhet, Arracan.—Horsfield.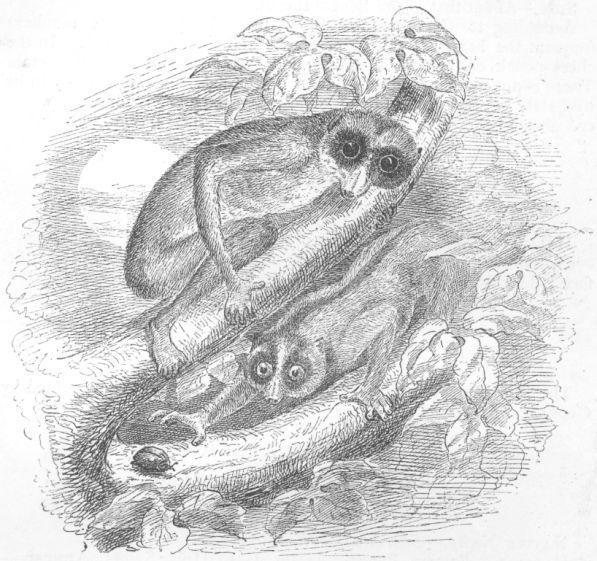 Loris gracilis and Nycticebus tardigradus. DESCRIPTION.—Dark ashy grey, with a darker band down middle of back, beneath lighter grey; forehead in some dark, with a narrow white stripe between the eyes, disappearing above them; ears and round the eye dark; tail very short.—Jerdon.
SIZE.—Length about 14 to 15 inches; tail 5/8 of an inch.
Nocturnal in its habits; sleeping during the day in holes of trees, and coming out to feed at night. Sir William Jones describes one kept by him for some time; it appeared to have been gentle, though at times petulant when disturbed; susceptible of cold; slept from sunrise to sunset rolled up like a hedgehog. Its food was chiefly plantains, and mangoes when in season. Peaches, mulberries, and guavas, it did not so much care for, but it was most eager after grasshoppers, which it devoured voraciously. It was very particular in the performance of its toilet, cleaning and licking its fur. Cuvier also notices this last peculiarity, and with regard to its diet says it eats small birds as well as insects. These animals are occasionally to be bought in the Calcutta market. A friend of mine had a pair which were a source of great amusement to his guests after dinner. (See Appendix C.)

GENUS LORIS.
Body and limbs slender; no tail; eyes very large, almost contiguous; nose acute.

29. LORIS GRACILIS. The Slender Lemur (Jerdon's No. 11).
NATIVE NAMES.—Tevangar, Tamil; Dewantsipilli, Telegu. (Oona happslava, Singhalese.—Kellaart.)
HABITAT.—Southern India and Ceylon.
DESCRIPTION.—Above greyish rufescent (tawny snuff brown: Kellaart); beneath a paler shade; a white triangular spot on forehead, extending down the nose; fur short, dense, and soft; ears thin, rounded (Jerdon). A hooped claw on inner toes; nails of other toes flat; posterior third of palms and soles hairy (Kellaart).
SIZE.—About 8 inches; arm, 5; leg, 5½.
This, like the last, is also nocturnal in its habits, and from the extreme slowness of its movements is called in Ceylon "the Ceylon sloth." Its diet is varied—fruit, flower, and leaf buds, insects, eggs, and young birds. Sir Emerson Tennent says the Singhalese assert that it has been known to strangle pea-fowl at night and feast on the brain, but this I doubt. Smaller birds it might overcome. Jerdon states that in confinement it will eat boiled rice, plantains, honey or syrup and raw meat. McMaster, at page 6 of his 'Notes on Jerdon,' gives an interesting extract from an old account of 'Dr. John Fryer's Voyage to East India and Bombain,' in which he describes this little animal as "Men of the Woods, or more truly Satyrs;" asleep during the day; but at "Night they Sport and Eat." "They had Heads like an owl. Bodied like a monkey without Tails. Only the first finger of the Right Hand was armed with a claw like a bird, otherwise they had hands and feet which they walk upright on, not pronely, as other Beasts do."
These little creatures double themselves up when they sleep, bending the head down between their legs. Although so sluggish generally, Jerdon says they can move with considerable agility when they choose.

SUB-ORDER PLEUROPTERA.—FAMILY GALAEOPITHECIDAE
There is a curious link between the Lemurs and the Bats in the Colugos. (Galæopithecus): their limbs are connected with a membrane as in the Flying Squirrels, by which they can leap and float for a hundred yards on an inclined plane. They are mild, inoffensive animals, subsisting on fruits and leaves. Cuvier places them after the Bats, but they seem properly to link the Lemurs and the frugivorous Bats. As yet they have not been found in India proper, but are common in the Malayan Peninsula, and have been found in Burmah.

GENUS GALÆOPITHECUS.

30. GALÆOPITHECUS VOLANS. The Flying Lemur.
NATIVE NAME.—Myook-hloung-pyan, Burmese.
HABITAT.—Mergui; the Malayan Peninsula.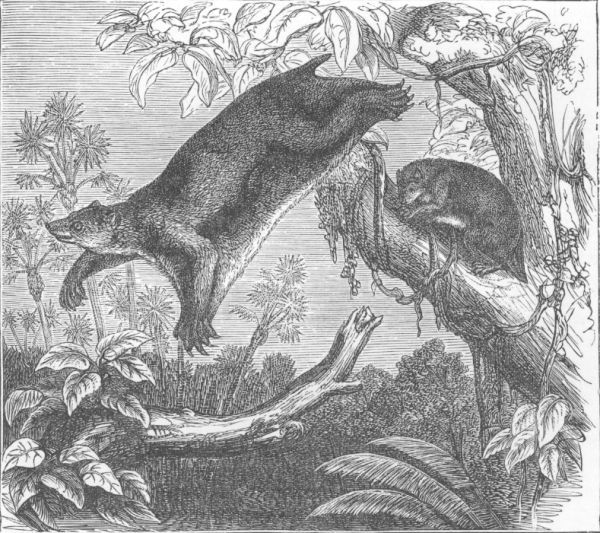 Galaeopithecus volans. DESCRIPTION.—Fur olive brown, mottled with irregular whitish spots and blotches; the pile is short, but exquisitely soft; head and brain very small; tail long and prehensile. The membrane is continued from each side of the neck to the fore feet; thence to the hind feet, again to the tip of the tail. This animal is also nocturnal in its habits, and very sluggish in its motions by day, at which time it usually hangs from a branch suspended by its fore hands, its mottled back assimilating closely with the rugged bark of the tree; it is exclusively herbivorous, possessing a very voluminous stomach, and long convoluted intestines. Wallace says of it, that its brain is very small, and it possesses such tenacity of life that it is very difficult to kill; he adds that it is said to have only one at a birth, and one he shot had a very small blind naked little creature clinging closely to its breast, which was quite bare and much wrinkled. Raffles, however, gives two as the number produced at each birth. Dr. Cantor says that in confinement plantains constitute the favourite food, but deprived of liberty it soon dies. In its wild state it "lives entirely on young fruits and leaves; those of the cocoanut and Bombax pentandrum are its favourite food, and it commits great injury to the plantations of these."—Horsfield's 'Cat. Mam.' Regarding its powers of flight, Wallace, in his 'Travels in the Malay Archipelago,' says: "I saw one of these animals run up a tree in a rather open space, and then glide obliquely through the air to another tree on which it alighted near its base, and immediately began to ascend. I paced the distance from one tree to the other, and found it to be seventy yards, and the amount of descent not more than thirty-five or forty feet, or less than one in five. This, I think, proves that the animal must have some power of guiding itself through the air, otherwise in so long a distance it would have little chance of alighting exactly upon the trunk."
There is a carefully prepared skeleton of this animal in the Indian Museum in Calcutta.